A Hope and a Cure for Feline Infectious Peritonitis(FIP): EVO984
Hope for Feline Infectious Peritonitis (FIP): Our Cat Luna's Story of Success (Luna's featured blog from www.pethelpful.com)
Our Savannah kitten was diagnosed with fatal feline infectious peritonitis. This is Luna's story of survival thanks to developing research.
Meet Luna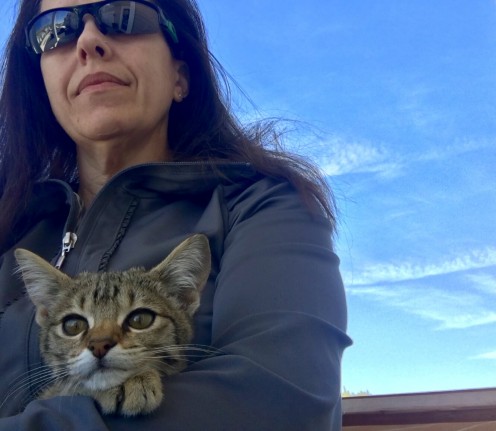 Waiting for a miracle
Our First Pet: A Beautiful Savannah Cat
After careful research and education to learn about Savannah cats, and ultimately selecting a reputable breeder, Luna joined our family in March of 2017 at the age of 10 weeks. She was spunky, alert, playful, and in seemingly good health when I picked her up in Boston. Luna is not your usual cat either. She is exceedingly friendly, funny, quirky, overly loving, and exceeded all expectations of what we thought a Savannah cat would be. She quickly melded into our home and our hearts as our first pet.Luna was due for her second feline distemper combination vaccine and a vet follow-up examination soon after her arrival. On April 13th, 2017, she received that vaccine, which is the routine protocol for most cats. After receiving the vaccine, Luna immediately started refusing to eat, was sleeping constantly, and felt very hot to the touch. My husband and I had already thought that she looked a bit distended around her midline abdomen and I made mention of this to the vet during this visit.The only variance noted during her vet exam was a grade 3 heart murmur which was thought to be benign, and she was deemed healthy. The plan was to reassess the heart murmur in a few months and consider a referral to a veterinary cardiologist if it did not resolve. The distention was thought to be a "normal kitten belly" according to the vet.
Luna's distended abdomen
Luna's Diagnosis and Journey to California for a Life-Saving Drug Trial
The abdominal distention was worsening, so on April 21st, we took Luna to the veterinary emergency clinic. I had already researched the causes of abdominal distention in kittens and had read about FIP, so this was already in the back of my mind; however, it's not relatively common, especially with the Savannah cat breed, so I wasn't terribly worried and thought that at worst, it could be a parasite.The vet aspirated some of the fluid from her abdomen during the examination and brought it with her to the exam room in a specimen tube to show it to us. She was quite certain that given the assessment of the fluid, her lack of appetite, lethargy, and fever of 105 degrees, that Luna had the effusive form of feline infectious peritonitis (FIP). She told us about the grim prognosis and that we had a few days to maybe two weeks with her at best. She said that we could come back in a few days for a consult with an internist to discuss any life-prolonging options and get a second opinion or to euthanize her if her condition further deteriorated over the weekend.On April 24th, we opted for the specialist and second opinion. Luna had a cardiac echocardiogram, x-ray, and further blood tests, which served to confirm the diagnosis of FIP. I have to say that this was the longest and most grueling three days of our lives as we tried to come to terms with the idea of losing our new baby, while also scrambling and researching to see what we could do, if anything, to save her. FIP is 100% fatal, with no treatment or cure. How could this be happening? We had waited so long to get her (even having had a terrible prior experience with another breeder three months prior when trying to purchase a Savannah kitten). Now we were faced with losing Luna.There simply had to be a way to save her. As a nurse in a large teaching hospital, I am familiar with clinical trials. I thought to myself, "surely there is something out there in the works for FIP." I called and emailed every major veterinary college I could find online during that very long and grueling weekend of waiting to see the specialist.Much to my surprise, I received a call back from
assistant, Mike, from UCD on April 23rd with the news of an up and coming new drug trial that was in the works, but was still awaiting institutional approval to get started. We discussed the details of Luna's diagnosis and testing, and I was instructed to email them all of her records and results. I received another call on the 24th to further discuss the trial further and the possibility of flying with Luna to Sacramento if they could get the approval pushed through.If we did this, Luna would be the first privately owned, naturally acquired FIP infected cat to start this new drug trial; and to make this even more amazing, she was at the perfect age to respond to the drug, which is an antiviral. Luna would be admitted to their clinic for 5-10 days of drug trial and monitoring.Time was limited, as she was deteriorating fast and with a fever of 105 degrees. Dr. Pedersen instructed us to stop the current palliative medications which included feline omega interferon and prednisone and to get there as soon as we could.We made it Sacramento on April 28th; seven days after her diagnosis. Dr. Niels Pedersen (professor and researcher, has worked on a cure for FIP since the 1960s), explained the protocol in detail and that the drug works to stop viral replication. We then went to the room where Luna would stay for the next 5-10 days, and that is when she received her first injection, as well as a thorough examination.
Luna's Time at UC Davis
The First Day of the Trial with Dr. Niels Pedersen, Dr. Elizabeth Montgomery, and Michael Bannasch, BS RVT
The Drug Known as EVO984, Went to Work Immediately
Luna responded extremely fast to the drug called "EVO984," even seeing improvement in her fever and behavior, after just one injection. Luna responded so well that we were able to come home on day number six. She would then receive another 11 plus weeks of daily injections to complete her treatment regimen. It was like bringing home a healthy, new kitten; a kitten free from fever, malaise, and abdominal distention.We continued to administer the anti-viral injections daily at home for a total of 12 weeks. Dr. Pedersen guided us the entire time as to when to have her blood work repeated by our local vet and the results reported to him, along with periodic weight checks so that her dosage could be adjusted accordingly.As a side note, this is the second drug trial since 2016 conducted by UCD for FIP. The first drug, GC376, was able to put 5 out of 20 FIP cats into successful remission, who to date, have not relapsed. Luna's drug, EVO984, has been even more successful, with approximately 25 cats achieving full remission and are most likely cured.If you would like to read more about the drug trials at UCD and about FIP, here are some credible links with current articles.
Also of note, both trials at UCD are closed.
The research team is working tirelessly to get the results of these trials published, the drugs pushed through FDA approval, and ultimately, a company to market these drugs commercially to vets for prescribing to FIP affected cats. Sadly, they are still 2-3 years away from accomplishing this, but it will happen!
Luna's progress. Her abdominal distention rapidly resolved with the EVO984 protocol.
Photo of Luna One Year Free From FIP
A Happy Ending for Luna and a Hopeful Future for Cats Diagnosed With FIP
Luna's last injection was July 23rd, 2017. She is thriving and showing no signs of disease and her lab work remains perfectly normal today. She reached her adult weight and stature and plays aggressively, as a Savannah cat should. She loves to go camping and on our backpacking adventures and has hiked up to 13 miles with us, either walking on her harness or riding on the backpack. She loves being outside with us and is always an attention-grabber when we are out and about. It's not every day that you see a cat on a leash or at a campsite!To date, September 30th, 2018, Luna has been FIP-free for well over one year and with no signs of disease. She is living a normal, healthy life and as of October 2017, is enjoying her two new buddies, Savannah cats, Titan and Calypso.I was recently interviewed by Steve Dale, Animal Behaviorist, of
. You can listen to my
about Luna's story with Steve (Flash Player required).
Luna Loves Camping and Backpacking With Her Humans
Luna at the Appalachian Trail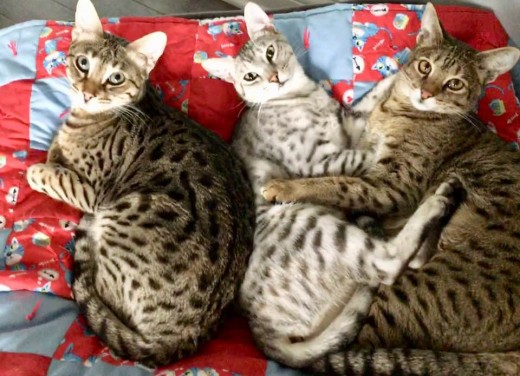 From left to right: Titan, Calypso, Luna AND our latest addition as of 10/24/18, Phoebe Calypso's sister and littermate who was in need of a loving home.
This article is accurate and true to the best of the author's knowledge. It is not meant to substitute for diagnosis, prognosis, treatment, prescription, or formal and individualized advice from a veterinary medical professional. Animals exhibiting signs and symptoms of distress should be seen by a veterinarian immediately.